Lieutenant Commander Gemma Whitefeather is currently serving as the Chief Counselor aboard the USS Belfast.
Lieutenant Commander
Gemma Whitefeather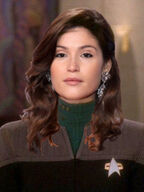 Counselor
USS Belfast



NCC-85320
Bio Info
Species: Human/Betazoid
Gender: Female
Born: 236006.21
Age: 35
Birth Place: Medara, Betazed
Statistics
Full Name: Gemma Adriana Whitefeather
Species: Human/Betazoid
Date of Birth: 236006.21
Place of Birth: Medara, Betazed
Description
Age: 33
Gender: Female
Orientation: Straight
Telepathic status: Touch Telepath. Empath. Touch not required with other telepathic species.
Current Rank: Lieutenant Commander
Current Assignment & Position: Counselling Officer, USS Belfast
Height: 5'4"
Weight: 125 lbs
Hair Color: Brown
Hair Length & Style: Waist Length, variety of braids when on-duty
Eye Color: Black
Skin Tone: Light Brown
Build: Slender
Birthmarks, Scars: None
Tattoos/Body Modifications: Tribal symbols down her spine (Cherokee)
Personal
| | |
| --- | --- |
| Father: | Adam Whitefeather (Full: White-Feather-Of-The-Snowy-Owl) |
| | Diplomat |
| Mother: | Ryanna Whitefeather (ne. Behtran) |
| | Artist |
| Sibling: | Georgia Avannia Whitefeather (Identical Twin) |
| | Diplomat |
| Spouse: | None |
| Children: | None |
Professional
2377-2380
University of Betazed
Psychology/Psychiatry
2380-2384
Starfleet Academy
Major: Psychiatry
Minor: Cultural Psychology
Specialization: Telepathic Trauma/Criminal Psychology
2384-2393
Starbase 84
Counseling Department
Note: While attached officially to the Starbase, 90% of Whitefeather's time was spent in transit to a variety of worlds and stations to handle treatment of patients within her specialization.
2393-Present
USS Belfast
Chief Counsellor
Background
Gemma grew up on Betazed with her twin sister, Georgia on Betazed. The daughter of a Terran diplomat and a Betazoid graphic artist. Gemma doesn't consider anything about her upbringing to be anything other than normal. She tended to be a good listener and always willing to help her friends.
She attended the University of Betazed and earned her degree in psychiatry. She took a special interest in people who were suffering from telepathic trauma. After meeting a patient who was the victim of a telepathic criminal, she developed an interest in understanding and ended up being one of the few people in her field of specialization: Criminal Psychology.
Upon graduation from Starfleet Academy, Gemma was assigned to Starbase 84 and the psychiatric department. Showing a unique skill at handling difficult/damaged patients, she was frequently sent to different worlds and stations within the Federation to handling these types of patients on a case by case basis.
Because she spent so much time in transit from case to case, Gemma added several more degrees to her list, including Xeno-Psychology and Cultural Anthropology. Until the present time she had never had a shipboard or long-term assignment.
Because of that she has acquaintances but no real friends, since she was never anywhere long enough to develop friendships. The same applied for romantic relationships. She did attempt a long-distance relationship with another doctor, but they lacked the correct foundation and his demands that she put in for reassignment fell on deaf ears. The break up was bitter on both sides. The experience taught her to never expect anything.
The Belfast is going to be a new experience.
USS Belfast Senior Staff

Jansen Orrey
Commanding Officer

Roberto Roque
Helm Officer

Eerie
Chief Security Officer

KeH'Gan
Security Officer

Mary Fenelli
Tactical Officer



Franklin Saunders
Chief Engineer


Lael Rosek
Engineering Officer

Kinsey Winstead
Operations Officer

Kherys Harper
Chief Medical Officer

Gemma Whitefeather
Counsellor

Anthony Lozano
Science Officer
NCC-85320