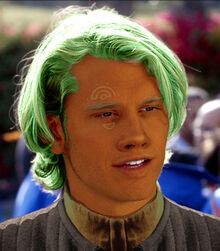 Lieutenant Commander Hanse Voortjes (pronounced 'VOORT yes' or 'VOORT chess') is a Catullan officer serving at Outpost Eden as chief engineer.
Height: 1.67m, shorter than the average member of the Federation's founding races.
Skin: Peach-orange
Hair: Light green
Eyes: Dark blue
Facial markings: A tattoo the same shade as his hair, one design making a half-circle above his right eyebrow, with a small crescent below the eye on the same side.
Family:
Father: Ulfen taBarjon
Mother: Voortjes enMirte ("Voora"), divorced Ulfen and married Voni taNoemb
Sisters: Sintamme enVoortjes, Berdi enVoortjes
Education:
Age 19: completes undergraduate via workstudy at Yoyodyne Industries, Catulla, applies to program at Utopia Planitia
Age 22: completes Masters in ship design at Utopia Planitia, applies to StarFleet based on advisor's input
Career:
Ensign: Starbase 10
Lt. JG: Age 25, USS Mekundu, Bellerophon-class science vessel, posted to Briar patch, sixteen months of slipstream testing
Lt.: Age 27, USS Ja'at Elam, Vesta-class long-term expedition ship, edge of galaxy beyond Tzenkethi space, first as a lieutenant and then chief engineer
Lt. Cmdr.: Age 29, Chief Engineer, Outpost Eden
Mission Achievements
| | | Criteria |
| --- | --- | --- |
| | We're Everywhere | Participate in an Outpost Eden launch mission (on Outpost Eden, the USS Belfast or the USS Odyssey). For founder members of the group. |
| | All This Time, They've Been Right! | Participate a mission where your crew uncovers an espionage plot. |