Cmdr Anthony Thomas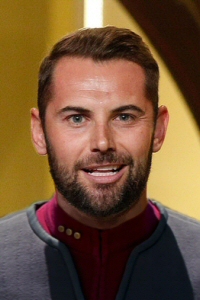 Commander Anthony Thomas is currently assigned as First Officer at Outpost Eden.
Statistics
| | | |
| --- | --- | --- |
| Full name: Anthony George Thomas | | Rank: Commander |
| Starfleet Serial Number: | | Species: Human |
| Race: Human | | Gender: Male |
| Place of Birth: Earth | | Date of Birth: 235611.19 |
| Age: 36 | | Height: 6'0 |
| Weight: 187 pounds | | Build: Athletic |
| Hair: Light Brown | | Eyes: Blue |
| Skin: Tanned | | Relationship Status: Single |
| Handedness: Right | | |
Insider Information
Commander Thomas, has been a Starfleet officer for over 10 years and a Tactical Officer for most of that. Anthony recently served on the USS Fairfax which was both demanding and challenging. With his excellent work on the Fairfax not going unnoticed when Starfleet announced the opening of a colony in the former Roman Neutral Zone, Anthony's Commanding Officer had no objection to his recommendation.
Pastime: Anthony is an active person when he isn't working. Choosing to do as much work as he can as quickly and as well as he can to maximise the time he has away from his desk is the status quo for him. Running has afforded Anthony many opportunities to clear his head and solve many a problem.
Quarters: Located on Deck 49 Anthony keeps it as tidy as he understands is acceptable. As a bachelor keeping his room tidy depends more on what people think of him should they enter it, rather than what should be done. He knows precisely where everything is located.
Presence: Anthony likes to make friends and will do his best to draw attention to himself if needed. While not a fool, Anthony will make lame jokes in an effort to achieve the above. 
Temperament: Anthony, unlike his brother is far more forgiving on the officers under his command. While expecting them to do their job, Anthony knows that fear of punishment isn't always an effective motivator and seeks other means to encourage and foster development.  
Likes: 

Like his Brother Kael, Anthony shares a passion or food. He loves to try new things and broaden his culinary horizons. Will often be found on the Promenade during downtime to "think".
Dislikes: Dishonest people. Anthony understands form his Tactical background the need for it, but when it comes to Starfleet officers or personal relationships, Anthony cannot tolerate it. 
Assignment History
Mission Achievements
| | | Criteria |
| --- | --- | --- |
| | We're Everywhere | Participate in an Outpost Eden launch mission (on Outpost Eden, the USS Belfast or the USS Odyssey). For founder members of the group. |
| | All This Time, They've Been Right! | Participate a mission where your crew uncovers an espionage plot. |
Recent Logs
Professional Log
Personal Log
Background
Relationships
Community content is available under
CC-BY-SA
unless otherwise noted.